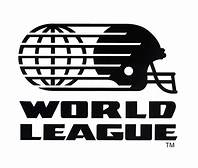 Welcome to my World League of American Football Website!
WLAF




1991-1992




1995 - 1997

NFL Europe




1998-2006

NFL Europa




2007
The WLAF, World League of American Football, NFL Europe, NFL Europa. Whatever the name was and wherever it was located, I followed it. I have been a fan of the WLAF since the league began and here you will find items in my collection as well as an in depth history of the league as well as other leagues. I hope to make this the ultimate site for the WLAF. Enjoy!
***The WORLD LEAGUE book is getting close to the final stages!!!*** I have interviewed over 300 players/coaches/employees and fans for the book. I want it to be done right so please bear with me. Looking like Spring 2023!!!! STAY TUNED!
30th Anniversary of the WLAF in Sports Illustrated with an interview with me!!!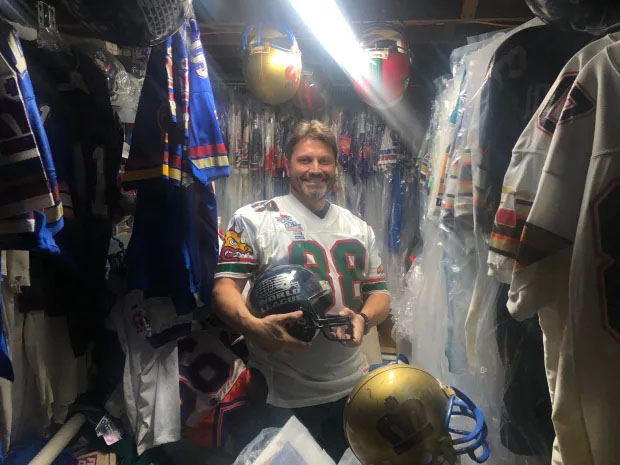 Check out the 30th WLAF article in SI with an interview with me!!!
World Bowl '92 Game Ball signed by Coach Kay Stephenson & MVP QB
David Archer (2x)
| | | | |
| --- | --- | --- | --- |
| | | | |
Check out these three great ESPN articles about the WLAF/NFL Europe and some of its star players!!
This site is continually being updated. I am currently trying to make this site the most informative and complete World League site on the web. If you have information that I do not have, let me know. I would be glad to include it here. Thank you!
NEW!!!!
Check out the new "For Sale" section for items to buy.
***WARNING***
There are many people on Ebay and auction sites trying to sell "game worn" WLAF jerseys. Make sure you do your research before you buy anything. Check on my site. If the number of the jersey doesn't match the name on the back, question what the item is. A lot of these jerseys are replica jerseys which someone put a name on to make them look game used. Also, do not pay more than $100-$150 for a replica jersey unless it is from the Ohio Glory, Raleigh-Durham Skyhawks or the Orlando Thunder. The three I listed are hard to find, especially the Thunder ones. If it is a game worn jersey look for a couple of things: 1. signs of wear (tears, repairs, scuffs, etc. - if they used it in a game, it probably looks like it) and the second thing to look for is on the Wilson tag at the bottom of the front of the jersey. Not all game worn jerseys have the name on the back. Names were put on nameplates and sewn to the jersey. If it says "Prestige Teams" on the Wilson tag, most likely it is either game worn or team issued which means it was never used but it is a real jersey and not a replica. It also has a small tag hanging under the Wilson tag that has a size like "52". If it has XL or M, it is a replica. The 1991-1992 teams never had stitched numbers or lettering on the jerseys. If you see one, it's a fake. Game used jerseys are around $300. A game used World Bowl jersey will be a lot more. Never pay for a jersey that is over $500 unless it is one of the stars of the league or a World Bowl one and those might be fake. Also, one more thing. Use common sense. If a jersey is $200 or more with no name on it, no wear and has weird patches or names on it, it is most likely a replica that someone is trying to pawn off as game worn or team issued. I also encountered a person in Ebay who was selling WLAF helmets. When I received them, I could smell the fresh paint and the colors were wrong (yes, I got a refund!). Original helmets were Riddell VSR-1, VSR-3 and some made by Schutt (for some reason). If you look inside the earhole, you will see a number with the first two digits telling you the year. Game used helmets also had a number inside or tape with a name on it. If in doubt, contact me. Thanks.
Disclaimer: This website has no affiliation with the WLAF, NFLE or NFL Europa or any NFL properties. This is a fan site by a fan for the fans only. Any information in this site has either been collected and/or compiled by the author of this website. No rights are implied.