Enter subhead content here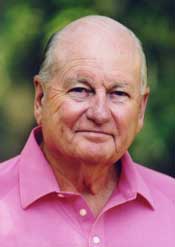 Tex Schramm (June 2, 1920 - July 15, 2003)
April 18, 1989
Tex
Schramm leaves the
Dallas
Cowboys of the NFL to become the founding President and Chief Executive of the World League of American Football. A committee is started to work out if the WLAF is a feasible idea with Dan Rooney, Norman Braman, Lamar Hunt, Vicor Kiam, Mike Lynn and Bill Walsh.
WLAF COMMITTEE
| | | |
| --- | --- | --- |
| Dan Rooney (Pittsburgh Steelers) | Norman Braman (Philadelphia Eagles) | Lamar Hunt (Kansas City Chiefs) |
| Victor Kiam (New England Patriots) | Mike Lynn (Minnesota Vikings) | Bill Walsh (former San Francisco 49ers Coach) |
Joseph A. Bailey, III, the former Dallas Cowboys' Vice President, joins the proposed league in preparation to become Vice President/Chief Operating Officer.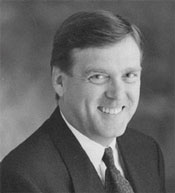 Billy Hicks, ex-Director of Business Services with the Cowboys, joins the proposed league in administration.
USA TODAY (Arlington, VA)
Author: DON COBLE(c) Gannett News Service
ORLANDO, Fla. - Orlando is one of three cities seeking two teams in the new World League of American Football, league president Tex Schramm said Thursday. The 12-team, seven-country league will be owned and operated by the National Football League, assuring the satellite organization of protection against competition. "It's not a gimmick-like league," Schramm told the Orlando Chamber of Commerce. "We want to start slow and conservatively and do it right. The rivalries will happen after it truely becomes an international league." Orlando is in competition with Jacksonville and Charlotte, N.C., for two spots in the four-team East Division. Schramm, former Dallas Cowboys president now in charge of international promotion for the NFL, toured the Florida Citrus Bowl early Thursday, met with Orlando Mayor Bill Frederick and a potential owner. The NFL is organizing the league to expand boundaries to Canada, Mexico and Europe. The WLAF will play from mid-March to early-July, Schramm said, to keep from directly competing with the NFL. Players will come from current NFL rosters, free agents and rookies. Some players, especially second-string NFL players in need of seasoning, will play in both leagues. The NFL will decide "within 30 days" which teams will make up the WLAF, Schramm said. New York and Montreal already are assured teams in the Eastern Division. The Western Division is a competition between Birmingham, Ala., Memphis and Nashville, Tenn., for two spots, while Los Angeles and Mexico City already have teams. The European Division is a five-way battle between Milan, Italy; London; Paris; Barcelona, Spain; and Frankfurt, West Germany for four spots. All teams will be restricted by a salary cap and all players will be considered property of the NFL. Before a player can join a team, he must first be hired by the NFL and made available to all teams. Forty-man teams will be formed in a special draft. The NFL will be responsible for negotiating a television contract, paying player salaries, travel expenses and game officials, Schramm said. In return, the NFL owners would own a controlling interest in the league. Local ownership would be responsible for local staffs and promotions. Orlando and Jacksonville currently have NFL-like stadiums in place. The Florida Citrus Bowl currently seats 52,000 and is being expanded to seat 70,000. Work on the expansion is expected to be complete by January, more than two months ahead of the opening kickoff of the WLAF. Jacksonville has the 80,000-seat Gator Bowl, while Charlotte must play in a 10,000-seat Memorial Stadium. Groups in Charlotte are trying to land an NFL franchise, promising to build a major stadium adjacent to the 95,000-seat Charlotte Motor Speedway in Concord. The NFL has interest from all three major television networks and five cable companies to broadcast a 10-game reuglar season and three-game playoff. Schramm said a good showing in the WLAF would impress NFL owners when NFL expansion is addressed. "I don't think this (WLAF) would be a deterant to having an NFL team," he said. "When the NFL decides to expand, you look at everything you can look at. Certainly, a very successful operation in this league would bode well for expansion." Orlando has jumped to the foreground of major sports consideration in the past three years. The Naional Basketball Association's Orlando Magic will tipoff its inaugural season in October, while Major League baseball is said to be keen on the Orlando area for expansion in the National League. Orlando has has three other professional football teams - the Panthers of the Continental Football League, the Florida Blazers of the World Football League and the Orlando Renagades of the Unites States Football League. All three teams and leagues folded under direct competition of the NFL.
--- (Don Coble writes for FLORIDA TODAY).
Copyright 1989, 2009 Gannett Co., Inc. All rights reserved.
Schramm gets wish as owners vote in favor of spring league

Author: John Czarnecki; Staff Writer of The Dallas Morning News THE

The Dallas Morning News

Edition: HOME FINAL
Section: SPORTS DAY
Page: 3B
Topics:
Index Terms:
PROFESSIONAL FOOTBALL INTERNATIONAL LEAGUE SPRING
Dateline: SCHAUMBURG, Ill.
Article Text:
SCHAUMBURG, Ill. -- Tex Schramm, the former Cowboys' president and NFL powerbroker, stood at the end of a long hotel hallway Wednesday, laughing while his memory bank churned away. "Thirty years ago I was standing outside a meeting room trying to get a franchise,' Schramm said of the Cowboys' acceptance into the NFL in 1960. "And here I am 30 years later standing outside in a hallway trying to get another franchise.' Once again, the wait was worthwhile. Tex Schramm is officially back in pro football. His international spring league, dubbed the World League of American Football, received 27 affirmative votes Wednesday. The Chicago Bears, who wanted more financial information, passed. However, it remains unresolved whether the league will open for business next spring or in 1991. "Ninety would be tough,' NFL commissioner Pete Rozelle said. "They'll have to give it a lot of thought. I know there's concern about the World Cup (soccer) being in 1990 in Milan. That might detract from the league's first season.' Milan has been mentioned as one of the four European cities, along with London, Frankfurt and Barcelona. The NFL owners immediately elected a WLAF board of directors, which is expected to meet next week to begin making formal plans. The board includes Pittsburgh Steelers president Dan Rooney, Philadelphia Eagles owner Norman Braman, Kansas City Chiefs owner Lamar Hunt, New England Patriots owner Victor Kiam, Minnesota Vikings general manager Mike Lynn, New Orleans Saints owner Tom Benson and Los Angeles Raiders owner-managing general partner Al Davis. Still, Schramm didn't sound optimistic about a '90 start. "Yeah, most of the board was on the committee, and we all wanted to move as rapidly as we could,' he said. "But the other side of the coin is that you want to be sure everything is set up in the best manner. We were just meeting now to set up the things we have to do in the next week, like setting up a corporation. We have a tremendous amount of work to do.' Schramm said the league will maintain offices in Dallas and will set up headquarters in New York. One of the six American teams will play in Giants Stadium in East Rutherford, N.J., to placate the television industry. Schramm said he is considering eight or nine cities for the final five American berths in the league. The cities under consideration are Nashville, Orlando, Birmingham, San Antonio, Sacramento, San Jose, Jacksonville and Charlotte. There have been published reports recently of mild network interest in the spring league. However, it was NBC, which lost major league baseball earlier this year, that originally proposed the idea of a spring league to fill programming needs to the NFL. Schramm contends that all three major TV networks, plus assorted cable companies, are interested in the league. Basically, this was a victory for Schramm. At 69, he obviously has rebounded from his departure from the Cowboys. "I wouldn't call it vindication,' Schramm said. "I don't relate this to the Cowboys. The Cowboys are always going to be an emotional part of my life. I can't get away from that. "At the present time, this is our venture,' he said. "It gives me something to occupy my mind; to get my juices going again. I don't have to make any apologies for what we did with the Cowboys. I've very proud of our record and what we accomplished.'
Copyright 1989 The Dallas Morning News Company
Record Number: DAL1080932
July 1, 1989
NFL owners unamimously vote to start the league on an international basis in the Spring of 1991.
August 14, 1989
Inaugural Board of Directors meetings held in Chicago. The charter board members include Dan Rooney of the Pittsburgh Steelers (Chairman), Tom Benson of the New Orleans Saints, Lamar Hunt of the Kansas City Chiefs, Mike Lynn of the Minnesota Vikings, Victor Kiam of the New England Patriots, Norman Braman of the Philadelphia Eagles ad Al Davis of the Los Angeles Raiders.
| | | | |
| --- | --- | --- | --- |
| Inaugural Board of Directors | Dan Rooney (Pittsburgh Steelers) | Tom Benson (New Orleans Saints) | Lamar Hunt (Kansas City Chiefs) |
| Mike Lynn (Minnesota Vikings) | Victor Kiam (New England Patriots) | Norman Braman (Philadelphia Eagles) | Al Davis (Los Angeles Raiders) |
With financing in place, the World League Corporation is formed and begins operation in Dallas, TX. John R. Schoemer, Treasurer and Chief Financial Officer for the World League.