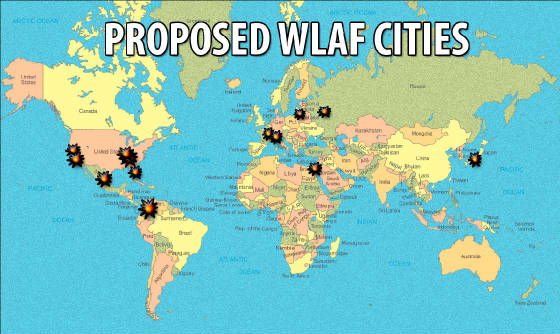 Here is a list of proposed cities that the WLAF looked at. Some were made into a reality while others stayed just a dream.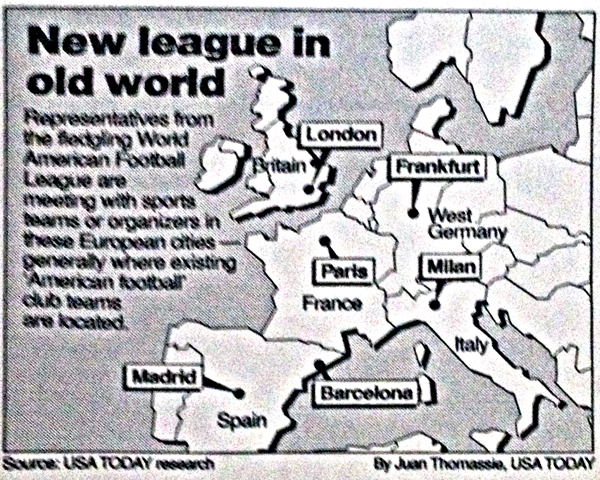 May 31, 1989 USA Today article showing prospective cities
April 18, 1989
London, Frankfurt and Dublin are among European cities the N.F.L. is considering.
June 22, 1989
Orlando is in competition with Jacksonville and Charlotte, N.C., for two spots in the four-team East Division.
The Western Division is a competition between Birmingham, Ala., Memphis and Nashville, Tenn., for two spots, while Los Angeles and Mexico City already have teams.
The European Division is a five-way battle between Milan, Italy; London; Paris; Barcelona, Spain; and Frankfurt, West Germany for four spots
July 20, 1989
Milan has been mentioned as one of the four European cities, along with London, Frankfurt and Barcelona.
The cities under consideration are Nashville, Orlando, Birmingham, San Antonio, Sacramento, San Jose, Jacksonville and Charlotte.
The League's new franchise from Columbus, Ohio, announces their new name, the "Ohio Glory".
1991 Time Magazine Article
Any good news? If there is, it's all abroad: Paris wants a franchise, as do Amsterdam and Bogota and Tel Aviv . . . and even Lithuania and Moscow.
July 27, 1994
At a press conference in London, NFL President Neil Austrian announces that the Amsterdam Admirals, Scottish Claymores, and Rhein Fire, located in Düsseldorf, Germany, will join the Barcelona Dragons, London Monarchs, and Frankfurt Galaxy in the new league.
June 13, 1998
NFLEL announces that Berlin, Germany's capital city, has been awarded a team to begin play in 1999.
November 3, 2003
The German city of Cologne is named as the site of a new NFLEL franchise. Former Berlin Thunder head coach Peter Vaas is names as the team's head coach.
2004
Hamburg is awarded new NFLE team after the Scottish Claymores are disbanded.
So did you get that? Here are the cities that were proposed but never happened:
Chicago, IL
Jacksonville, FL
Denver was also proposed at one point too
Memphis, TN
Nashville, TN
Los Angeles, CA (already said to have a team in 1989, what happened?)
Mexico City, Mexico (same as Los Angeles)
Milan, Italy
Paris, France
San Jose, CA
Bogota, Columbia
Tel Aviv, Israel
Lithuania
Moscow, Russia
Also a team in Japan was mentioned as well as in Dublin, Ireland!
The initial 12 WLAF teams that were supposed to start in 1990 included Mexico City and Milan, Italy. By 1994, there were 14 teams proposed for the league (too bad it didn't make it that far!).